---
SPECIAL NEWS!!!
UPDATE:
An outstanding performance for AGIS:
IHTIR's Choice for Best Performer in 2003
Agis Pharmaceuticals, (See January article in IHTR.) is listed on the Tel-Aviv Stock Exchange. It is right after Teva Pharmaceuticals (Nasdaq:TEVA) and it is the country's second largest pharmaceutical firm.. When IHTIR published the analysis on Agis,at the outset of 2003, few expected Agis that would spike up by more than 50%. It brings the valuation into focus. IHTIR feels that the company's long-term future is excellent.
The pharmaceutical company expects profit growth to be continued in the first quarter of this year, in the aftermath of its excellent results for 2002. The company posted a 13% jump to NIS 1.4 billion, in revenue and a 198% leap to NIS 82.5 million in operating profit.
Agis's net profit surged 178% to NIS 63 million, compared with NIS 22.6 million in 2001. The company's fourth quarter net profit was NIS 14.1 million, compared with only NIS 2.5 million in the fourth quarter of 2001. Agis expects its profit to continue growing in the first quarter of 2003, as compared with the corresponding quarter of 2002, probably at the same rate it did in the third and fourth quarters of 2002, and as compared with Q3 and Q4 in 2001.
The proportion of Agis's revenue from international operations rose from 39.5% in 2001 to 50.4% in 2002. The significant shekel depreciation against the Euro contributed greatly to the surge in company profits. Agis also predicts it will receive more authorizations, to market new products in 2003, as a result of the requests submitted before publishing its financial statements.
---
AGIS: IHTIR #1 Choice for 2003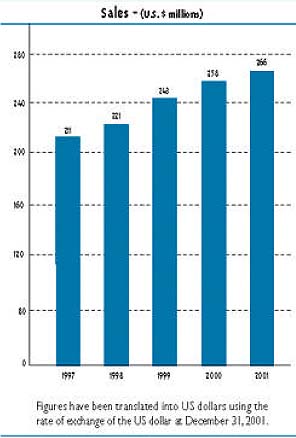 Agis Industries (1983) Ltd. is Israel's second largest pharmaceutical company. It is strategically positioning itself to move from being a local diversified pharmaceutical and consumer products enterprise into a specialized global pharmaceutical company.
The company has focused for several years on an effort to consolidate and expand its activities overseas, through the sale of pharmaceuticals in the US by an American subsidiary, and the sale of APIs to the global generic pharmaceuticals industry, mainly in the US. Agis (AGIS:TASE) since 1992, is a public company, listed on the Tel-Aviv Stock Exchange. The company, while well known to the Israeli public, is nearly unknown to international investors.
Company Description
The Agis Group's principal activities are manufacturing, marketing and importing of pharmaceuticals; developing and manufacturing of active pharmaceuticals ingredients (API); importing and marketing of medical equipment, paramedical products, and medical diagnostic products; manufacturing and marketing of drugs, cosmetics, toiletries and consumer goods; and manufacturing of bar soap, cleaning products, detergents, powdered laundry detergents, toiletries and baby products. It operates four manufacturing facilities in Israel and one in the USA. It sells its products mainly in Israel and the USA. Drug sales accounted for 66% of 2001 revenues; consumer products 28% and medical applications 6%.
Agis employs . 1,900 workers, of which . 600 are in the U.S.
Sales Analysis
During the year ended December of 2001, sales at Agis Industries (1983) Limited were US$251.8 million, This was the fifth consecutive year of sales increases at Agis since 1996, sales have increased by 71%.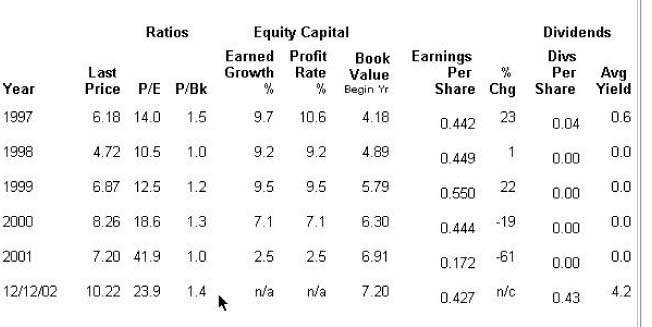 Sales Breakdown in 2001 by Market Segment
Pharmaceuticals Sold in Israel 30%
Generic Pharmaceuticals in U.S.A 25%
Active Pharmaceutical Ingredients (API) 12%
Diagnostics and Medical Equipment 6%
Consumer Products 27%

Recent Share Price Development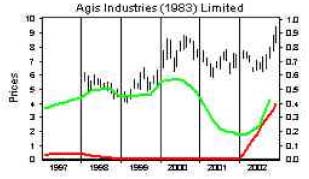 The share price was up 37.9% to $10.22 over the past 13 weeks. . In the 12 months ending 9/30/02, earnings totaled $0.43 per share. The share have recently traded at a Price / Earnings ratio of 24. These 12 month earnings are substantially greater than the earnings per share achieved during the calendar year ending last December, when the company reported earnings of 0.17 per share. Earnings per share fell 61.4% in 2001 from 2000.
Key Ratios
The shares are currently trading at 1.12 times sales and at 1.41 times book value.
Summary
Agis' strategy is clearly aimed at increasing its overseas sales. It has shown its ability to sell the American market and here is where we anticipate major growth in 2003.
Its shares have recently been upgraded to the Tel-Aviv 100 providing greater investor visibility and liquidity. We believe that Agis shares provide an interesting vehicle for investors to participate, at a reasonable valuation, in Israel's growing generic industry. The shares are yielding 4.2% having recently distributed $0.43 a share dividend. All of these factors add to Agis' investment attractiveness.
Click HERE to request further information.
Click HERE to go BACK.