---
from the December 2006 issue
---
"Follow the leader"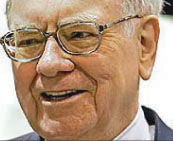 In less than half a year, Warren Buffett's purchase of 80% of Israel's Iscar Ltd. for $4.0 billion has become a veritable legend. The deal began with an ordinary e-mail from Eitan, the son of Steff Wertheimer, the company's founder. Eitan stated that Iscar was up for sale. The initial contact, which led to the sale, became  the single largest investment into an operating Israeli company. Warren Buffett first visited Israel and Iscar, after the deal was concluded. In retrospect Iscar's corporate profile is typical of many of the Buffett investee companies. Iscar is a family owned company that is fully devoted to its business affairs and has a history of many years of profitability and growth in sales.
Warren Buffett is considered one of the world's canniest investors. Since the purchase he has expressed total satisfaction and called it "a winning bet". We recently came across a table of two years of merger and acquisition activity in Israel. In this issue we are reproducing the table that lists the merger & acquisition activity by sector, sum invested and date.
In 2005 the merger & acquisition activity totaled $3.4 billion. In 2006 the M & A activity, prior to the date of the announcement of Warren Buffett's investment totaled $616m. The "post-Buffett" investment activity totaled $10.4 billion. About half of this was accounted for by two companies, whose decision making process behind these massive deals, was totally unrelated to that of Warren Buffett.
Yet, though there is no way to absolutely prove the point, this other half of the total M & A activity in 2006 was most likely favorably influenced by Warren Buffett's stamp of approval of Israel. We believe that 2007 will prove to be another banner year for Merger & Acquisition activity, with so many new entrants appearing on the scene. The maturing start-ups are attractive to foreign investors. A case in point is the most recent acquisition by of iRows, which Google has acquired for an undisclosed sum of money. The acquisition is intended to improve Google's existing spreadsheet services. iRows has created on-line spreadsheet allowing the user to  access its spreadsheets on-line from anywhere.
Israeli companies, once priced at discount to the global market, are beginning to achieve premium valuations.
---
Reprinted from the Israel High-Tech & Investment Report December 2006
Click HERE to request further information.
Click HERE to go BACK.