---
from the November 2008 issue
---
The third eye in your car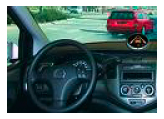 Motor vehicle "accidents" are the leading cause of "death by injury" in the world today and are recognized as a major and growing global health burden. According to World Health Organization (WHO) estimates, in 2002 nearly 1.2 million people died in road crashes worldwide and between 20 and 50 million were injured. More than 40,600 people are killed in traffic accidents in the United States alone.
So when new technology is developed that promises to lower traffic death rates, it attracts serious attention.
A computer chip and a tiny camera not much bigger than a dime installed on the windshield behind your car's rear-view mirror may now make the difference between life and death.
The Netherlands-based Mobileye Vision Technologies has developed an inexpensive hi-tech driver assistance system called Mobileye AWS (advance warning system), which can provide drivers with early warnings of potential road hazards.
Founded by an Israeli, with its R&D based in Israel, the company says the system has the potential to lower accident rates and teach people how to be "smarter" drivers.
The images generated by a front-facing camera are analyzed by the system's computer chip, which has been "taught" to recognize potential hazards such as cars, buses, trucks, motorcycles and pedestrians, and uses audio warnings to aid the driver in recognizing and maintaining safe distances from these threats.
The aftermarket product line works day, night and in inclement weather, and features Forward Collision Warning that prevents collision with vehicles ahead by alerting drivers to both moving and stationary vehicles while filtering out cars in adjacent lanes that pose no threats. Alerts are provided up to 2.7 seconds before collision - enough time to safely stop and avoid an accident.
For example, the system detects the distance to the vehicle immediately ahead - generally targeted as posing the primary threat. As the driver nears the vehicle in front of him, an image on the display panel changes progressively from green to orange to red.
Upon advancing beyond a minimal safe following distance, the driver will hear an audio warning announcing that he or she must reduce speed and fall back. The audio caution will cease the moment the driver steps on the brakes. The company aims to provide optimal safety for every vehicle and not just for luxury cars. It uses inexpensive components to make it attractive both to automotive manufacturers and to the average car owner. The final retail cost to the consumer is under $1,000. The company is not disclosing figures on how many units of the product it has sold to date.
The system is the result of a challenge thrown out to Mobileye co-founder and chairman of the board Prof. Amnon Shashua. After giving a lecture to one of the leading car companies in Japan, Shashua was asked if he would be able to develop an automotive vision system using two cameras.
Road testing of the system was conducted in Israel, Europe and the United States. The company is currently running a pilot program with the Dutch government in which the camera has been installed in 2,000 trucks, with a view to having it fixed in an additional one thousand trucks.
As of 2007 Mobileye's systems have been installed in production vehicles on selected automakers' assembly lines in the hope it will eventually evolve into a standard auto safety feature. The system has been installed into several models of BMW, Volvo and GM.
Mobileye Vision Technologies is also cooperating with insurance companies to bring down insurance costs because it does in effect prevent or at least reduce the number of traffic accidents.
Much like seatbelts, the company's product could one day be a compulsory safety feature required by insurance companies. The product is currently sold in several countries, including the United States, The Netherlands, the United Kingdom, Australia and Chile, and is installed in both commercial and passenger vehicles.
---
Reprinted from the Israel High-Tech & Investment Report November 2008
Click HERE to request further information.
Click HERE to go BACK.