---
from the November 2005 issue
---
Israel in Second Place in Nasdaq Listings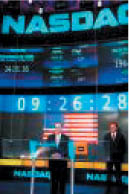 Israel has second most companies registered for trading on NASDAQ When Ituran (Nasdaq, TASE: ITRN) joined the Nasdaq it, became the 71st Israeli company on the Index. Israel is now the second most represented country on Nasdaq after the U.S.
For some time, Israel had been third in line, after Canada, but with 68 listings, that country has now slipped to third place.
This comparison only counts companies registered in Israel as Israeli, and therefore if others, Israel-based but registered elsewhere such as Comverse Technologies (NASDAQ:CMVT) or Amdocs (NYSE:DOX), were taken into account, the numbers would be even more impressive.
Two more Israeli companies Passave and Predix Pharmaceuticals. plan to list on Nasdaq.
---
Reprinted from the Israel High-Tech & Investment Report November 2005
Click HERE to request further information.
Click HERE to go BACK.