---
from the September 2008 issue
---
Silent eyes in the sky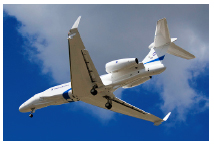 Remotely piloted vehicles (RAV)are small pilotless planes that can fly over designated targets and transmit a real time pictures of the area they scan. They first earned international acclaim when they detected the exact position of SAM-9 Syrian missile bases in Lebanon's Bekaa Valley more than a decade ago. These bases were rendered inoperative by the Israel Air Force, removing a major threat to the security of this country. Building on this success Irael continued to develop its avionics that resulted in a substantial export industry.
Israel recently displayed its latest spy plane in what defense officials said was a show of strength in response to Iranian war games and missile tests. The aircraft's sophisticated intelligence-gathering technology and electronic warfare systems were developed by state owned Israel Aerospace Industries and installed aboard a US-made Gulfstream G550 business jet. The plane went on display at the Israel Aerospace Industries headquarters at Israel's Ben-Gurion International Airport. The aircraft was also shown at the Farnborough Air Show in England.
Israel initially unveiled the plane last year, but defense officials said the aircraft went on display most recently in a clear response to the war games under way in Iran. The officials spoke on condition of anonymity because they weren't authorized to discuss military tactics. "It has the most sophisticated early warning and intelligence devices to date and is capable of reaching all destinations required by the air force," said Assaf Dargan, a spokesman for Israel Aerospace Industries. He declined to elaborate, citing security considerations. Among the missiles Iran said it tested was a new version of the Shahab-3, which has a range of 1,250 miles and is armed with a 1-ton conventional warhead. The missile puts Israel, Turkey, Pakistan and the Arabian peninsula within striking distance.
---
Reprinted from the Israel High-Tech & Investment Report September 2008
Click HERE to request further information.
Click HERE to go BACK.