---
from the June 2008 issue
---
Project Better Place presents electric car prototype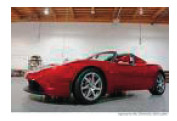 Project Better Place presented its prototype electric car, using the Renault Megane. The venture is owned by CEO Shai Agassi, and the Israel Corp. (TASE: ILCO) is a major investor.
The vehicle looks similar to gas-powered cars, the Renault Megane's engine includes an electric battery, and the car notably does not need an exhaust pipe.
Project Better Place noted that the presentation model was a prototype - whose battery is an improvisation produced by a local technician - and not a production model.
Agassi said that a few electric cars would arrive in Israel in a few months, but added that it would only be available for sale after the necessary infrastructure is in place. The list price of the electric car will probably be similar to the gasoline-driven model of the same car. However, the actual price tag will be less, thanks to tax breaks.
Project Better Place commissioned a survey, in which one in every six Israelis said that they would buy an electric car. The survey added that the public believes that there is strong market demand for it. Project Better Place added that half of the respondents said that switching to an electric car would be easy or very easy.
Shai Agassi reiterated his pledge to make Israel an electric car pioneer. Denmark, which has already declared its willingness to adopt the car, will follow. Israel Corp. chairman Idan Ofer said, "I consider this to be a revolutionary project and I believe that most of the public will drive an electric car within a decade." Ofer has invested $130 million in the venture personally and through the Israel Corp.
---
Reprinted from the Israel High-Tech & Investment Report June 2008
Click HERE to request further information.
Click HERE to go BACK.