---
from the May 2007 issue
---
Zaka scooters fitted with cameras linked to hospital in real-time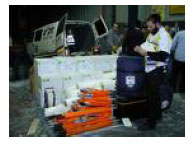 ZAKA the orthodox rescue and identification organization fitted five motor scooters with devices that transmit pictures of accident scenes and information about victims to Hadassah Medical Center-Ein Kerem. The real-time service allows medical teams to prepare for patients being sent to the emergency room, and to immediately advise staff in the field.
The broadcast system, produced by the Jerusalem-based company Servision, uses an ultramodern $2,500 camera installed on a special post on the scooter. When ZAKA volunteers arrive at a scene, they use the camera to transmit pictures via their cellphones to a computer in the hospital's trauma unit. Medical teams see accident victims on the screen long before they arrive. The pilot project will determine the feasibility of installing these units on other ZAKA vehicles in the future.
Israeli-developed helmet developed to protect American airforce The Israeli-company Elbit's new helmet is set to be included in the development of the latest fighter jet, the F-35, reports Ma'ariv. Developed by the US Army and NATO, the new F-35 is expected to play a major role in American and global military operations. The new helmet is an advanced model of a design originally developed for Israel's Lavi planes from the 1980s. On the visor of the helmet it will be possible to display all the flight and system data. Thus the pilot will be able to continue to look straight at a target or enemy instead of being diverted at any of the various screens. The helmet's technology allows the combat pilot to aim anywhere he directs his view.
"Israel has a stock of human capital that will keep supporting its comparative advantage." In a report released by Morgan Stanley's, Serhan Cevik, Vice President for Middle East and North Africa, Israel's economy received a glowing review. Cevik states in the report that: "With such an extraordinary link to the global investment cycle, Israel has benefited from strong growth all around the world in the last couple of years . . . (and) growth dynamics have become more balanced and therefore resilient to cyclical changes in the global economy" and that "our optimism . . . will not disappear just because of market jitters." Cevik remarks that, "the composition of human capital and economic sectors is a major source of productivity growth." According to the Morgan Stanley report, one of the major factors in Israel's economic outlook is the structural changes within the economy: "The economy's shift to higher value-added technology-intensive sectors" results in "the positive feedback loop - from technological orientation of human capital and economic activity to total factor productivity and income growth - enhances the economy's growth potential."
---
Reprinted from the Israel High-Tech & Investment Report May 2007
Click HERE to request further information.
Click HERE to go BACK.