---
from the April 2008 issue
---
Cellular technology Modu gets $100m in VC commitments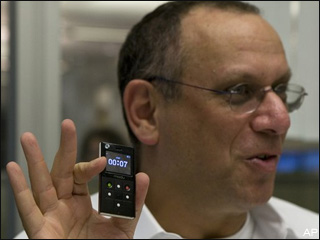 Cellular technology start-up Modu Ltd., according to venture capital sources, has secured $100 million in funding commitments from investors, and is expected to close the funding round within the next few weeks. The commitments were made on the basis of valuation for Modu of $150 million before money. The company is now in the process of completing its presentations to existing and new investors, both locally and overseas.
Modu was founded eighteen months ago by Dov Moran, who founded msystems and managed it through to its sale to SanDisk Corporation (Nasdaq:SNDK) for $1.6 billion. The company has raised $20 million to date from Genesis Partners, Gemini Israel Funds, SanDisk and from Moran himself.
A funding round on this scale is considered extremely large and exceptionally rare in the Israeli venture capital industry. The raising of so large a sum, especially where the company in question is so young, is also connected to Moran's status as an entrepreneur who «has already done it before Modu originally sought to raise the funding at a valuation of $200 million before money, and that the «deal» it closed demonstrates the belief that investors, both existing and new, have in the company's potential. The capital will be used to bring Modu's product onto the market as early at the end of 2008.
The device Modu has developed is a cellular handset that can be connected to a USB port on any computing device. It is based, among other things, on flash memory technology, and a unique memory technology that interfaces with any device it is connected to, enabling the uploading all forms of data, from telephone numbers to multimedia files.
The Modu handset will use Jackets - specialized enclosures for electronic devices - to interface with other computing devices. In practice, the modu can connect to differing electronic devices in the same manner as flash memory cards connect with computers. Modu is in advanced negotiations on marketing agreements with leading global cellular operators and handset manufacturers. Recently, Modu announced it had signed a collaboration agreement with Universal Music Group (UMG) for the development of specialized jackets. UMG will be the first music company to use Modu's mobile phone concept.
---
Reprinted from the Israel High-Tech & Investment Report April 2008
Click HERE to request further information.
Click HERE to go BACK.