---
from the April 2007 issue
---
Sokol the personal sweet water purification system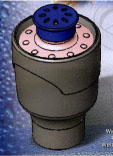 A young Israeli company called Watersheer Ltd. has developed a series of products, ranging from a personal purifier in a form of a bottle cap, to up to a 100 liter water processing system. The multi purpose purifying system for large capacity of water, is easy to use and is independent of external energy sources. It is available in various configurations (20, 50, 100 liters). The system treats organic, biological, and chemical water contaminates. It also serves hospitals, EMS, federal and private institutes.
The Sulis Personal Purification System (PPS) takes all the ingredients needed to transform dirty water into clean water - and has miniaturized the technology to fit into the top of a cork that can be plugged into virtually any size bottle, container or tap.
Tested and certified by authorized labs and approved materials by international standards.
"Above everything else, the product we've developed is going to save lives," explained Yossi Sandak, the CEO of Watersheer. "Over 1.6 million children under the age of five die each year in the undeveloped world from drinking untreated water. What we have is a solution to reduce death in the world that is not a medical solution, but simply providing people with clean drinking water."
The small unit is lightweight and small, 10 grams, 2.7 Inches / 7 cm) and is designed to fit onto most universal bottles. According to Sandak's partner, Ron Shani, the founder, chairman and vice president of Watersheer's R&D division, the Sulis system treats water from upper sources containing organic, biological and chemical contaminates. Sandak added that the company is looking for investors in order to open a production plant in Sderot once orders start pouring in. While they don't affix an actual price to the system, Shani and Sandak say that the Sulis will cost no more "than a large coffee and cake at Starbucks." Considering one Sulis cork can purify 1,000 liters of water before being replaced, that's quite a bargain.
---
Reprinted from the Israel High-Tech & Investment Report April 2007
Click HERE to request further information.
Click HERE to go BACK.