---
from the March 2007 issue
---
Number of First Investments by top 10 funds show stability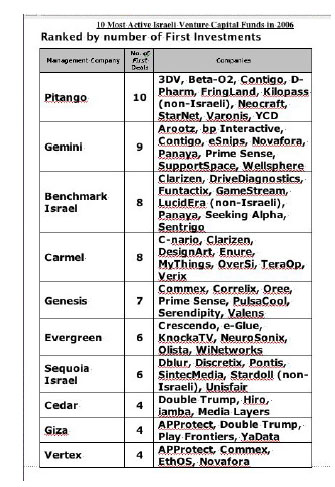 IVC Research Center has released its compilation of 2006's most  active Israeli venture capital funds. The ranking was made by the number of First Investments in 2006. Data are based on the IVC Online Database and information received directly from the VC funds. The report relates to investments made in Israeli, Israel-related and foreign high-tech companies by Israeli management companies that had a minimum of $30 million under management.
Pitango topped the 2006 most active funds list with 10 First Investments. Gemini, ranked second with nine First Investments. Benchmark Israel and Carmel ranked third with eight First Investments, followed by Genesis with seven, Evergreen and Sequoia Israel with six and Cedar, Giza and Vertex with four each. All leading management companies on the list, except for Cedar, raised new funds in the past three years.
Pitango, Gemini and Giza were the most consistent seed investors, each with four. Benchmark Israel was the most sector-focused fund of the ten, investing five of its eight First Investments in the Software sector. Four of Gemini's nine First Investments focused on the Internet sector, while Carmel, Pitango and Vertex invested in three Communications companies each
According to IVC General Manager Guy Holtzman, "For 2007, we are forecasting stability in new early stage investment activity by Israeli VC funds. Competition among VC themselves, as well as with private investors, is pushing company valuations higher, especially in the Internet and new media sectors.
The top 10 funds made 65 First Investments, just above the 63 first investments made in 2005 and an increase of 23% from 53 investments in 2004. Twenty-one of the investments 32 % were in Seed stage companies, IVC33, 5% were in R&D stage companies, and another 11, 17% were in later stages companies. Software sector attracted the highest number of First Investments by the most active funds in 2006 - 22 deals(34%, followed by the Communications sector with 18 investments 28%, Internet with 14 deals 21%, Other Technologies with eight and the Life Sciences with three.
Star, JVP, Pontifax and Infinity that ranked in the top 10 most active funds in 2005 are missing from 2006's top ranked firms.
---
Reprinted from the Israel High-Tech & Investment Report March 2007
Click HERE to request further information.
Click HERE to go BACK.