---
from the February 2007 issue
---
The China-Israel connection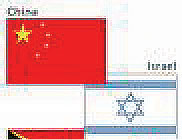 Israel-China trade climbed nearly 30% in 2006, to $3.8 billion, and is expected to reach $5 billion this year, catapulting China to the position of Israel's No. 2 trading partner, second only to the U.S. Prime Minister Ehud Olmert, during a recent visit to China, announced the establishment of China-Israel Binational Fund for Investment in High-Tech R&D. "The establishment of this fund, together with the establishment of the joint committee for R&D investment is of extreme importance. These funds will be the catalyst for deepening cooperation," he said.
Olmert predicted that bilateral trade would triple by 2010 to $10 billion a year. Israel-China trade totaled $3.8 billion in 2006, 27% more than in 2005. "China is crying out for Israeli know-how and technology, for example in water," he said. "For China, water is as important as oil, and Israel is the leader in water desalination and recycling technologies. The hydro-technology agreement we signed will be the foundation for fruitful economic cooperation."
But official statistics don't tell the whole story. The China trade figures exclude business with Hong Kong, even though much of it is redirected to the mainland. The numbers also would be higher if Israel's lucrative arms sales to China hadn't come to an abrupt end in 2005 under heavy pressure from the Bush administration.
The Chinese are interested in more than just military hardware. As with many countries, Israel has been flooded with imports of Chinese consumer goods and textiles in recent years. But moving in the other direction, hundreds of Israeli high-tech, chemical, and agricultural technology companies have seen exports to China boom.
China also is becoming a big buyer of Israeli agro-technology. Companies like Netafim, a world leader in drip irrigation systems, have seen steady growth in demand in the past decade. Netafim has opened a factory in China. "With water shortages becoming more acute we expect China to become one of our major markets in the coming years" according to Rami Levy, managing director of Netafim Asia Pacific. Recently,  Israel's Global Environmental Services (GES) announced a $5 million water purification project in Inner Mongolia. The company also said it is discussing a huge desalination project in another region of China.
Perhaps Israel's biggest export to China is high tech. Established companies like ECI Telecom (ECIL), a producer of telecommunications equipment, initially followed the joint venture route. The company, based in Petah Tikva, Israel, entered China eight years ago through a venture with Eastern Communications Company (Eastcom), a leading Chinese manufacturer of cellular technology. But in 2006 ECI took over full control of the joint venture, which produces components for ECI products and more recently has started doing research and development work for its Israeli parent company. "Now nearly 10% of our 3,000 employees are located in China," says ECI Chief Executive Rafi Maor.
Entry into the Chinese market hasn't always been easy. Security software developer Aladdin Knowledge Systems (ALDN) first tried seven years ago through a local representative. "This strategy didn't work for us and after a year or so we just dropped out of the Chinese market," says Yanki Margalit, founder and CEO of Tel Aviv-based Aladdin.
After a four-year interruption Aladdin decided the try a new approach and opened up its own office in Hong Kong, and last year moved to Shanghai with an Israeli overseeing the operations. "Sales doubled in 2006 and we're looking for an even bigger increase this year, making China our fastest growing market," says Margalit.
In 2004 Infinity Venture Capital and Clal Industries and Investments joined with Suzhou Industrial Park and China Singapore Venture Capital and established a novel fund to invest in startup companies whose research and development are to be in Israel and production in China. The joint fund has already invested $40 million in six semiconductor and communications startups. A second $150 million fund is currently being raised. Two of the funded companies already have been sold, and there is talk of two others going public on the Shanghai and Shenzhen stock markets.
---
Reprinted from the Israel High-Tech & Investment Report February 2007
Click HERE to request further information.
Click HERE to go BACK.