---
from the November 2003 issue
---
The Market Likes New Varieties

Agriculture:

Market demands influence seed research and development. A good example is the hybrid onion with the highest level of dry layers in the world, making it particularly suitable for countries with fewer daylight hours. Another example is the introduction of a melon-sized watermelon, which fits easily into the refrigerator.
Agricultural research has contributed to the development of high added value products. A variety of tomato renowned for its long shelf-life which has been developed as a hybrid of two varieties. One is characterized by late ripening and the other by solidity. The result is a new variety that is large, solid and enjoys a long shelf life. Some 40% of the tomato greenhouses in Europe utilize seeds developed and produced in Israel. In some countries, this figure reaches as high as 98%.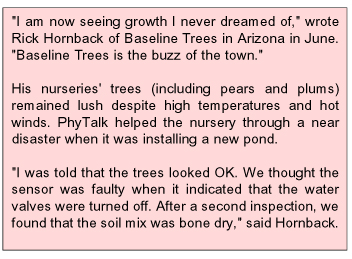 Another new variety is the seedless watermelon. It is cultivated in a wide range of sizes and colors, meeting a variety of customer demands.
Seed scientists have also developed special varieties of squash for greenhouse propagation, allowing the farmer to grow a high quality product, undamaged by wind, sand or pests. Another advantage of greenhouse squash is that high yields can be obtained, even during the off-season.
The black watermelon was developed and aimed at the European and American markets, as a specialty/
Following the trends for transition to organically grown, chemical-free products, Israel has developed naturally colored cotton, so that in addition to white cotton, brown and green cotton can now be grown.
A variety of hybrid cotton has recently been developed. Characterized by longer and stronger fibers, it is typically a high yield-per-area crop, requiring less water. It has been grown with excellent results in India, Southeast Asia and other regions.
Remote Control of Greenhouses
Motorola Israel has a world-class reputation for developing and manufacturing water-saving irrigation systems that are used around the world. Its latest product Radio Piccolo XR is a new remote terminal which can operate at a distance of 3 km. It communicates with the grower via an interface to IRRInet-XL, the company's water and irrigation control system that is used for municipal water control, landscapes, city parks and highway irrigation needs, as well as computerized water distribution (pumping stations, reservoirs), supply projects in rural areas.
Hi-Tech in Dairy Industry
"Cow cooling" is one way to ensure that milk production is not detrimentally effected by summer heat. Two Israeli scientists discovered that cows, just like people, are affected by the weather. Introduced to California dairy farmers two months ago, Polak Brothers' new CowKool misting system, considerably raised summer milk yields.
Monitoring bovine health and yields is a major task for large dairy farmers with herds in the thousands. A cow is more active when it is in heat observed experts of cows on Kibbutz Afikim. Afimilk uses a pedometer to measure heat and activity which pinpoint the best time for insemination. Its computerized system provides management of production, fertility, and health of herds.
"Using electronic sensors in tags on the collars, or ears of a cow represents a novel way of monitoring cows," said Ori Inbar of SCR. Data from the tag that measures the cow's daily activity - running, playing, or when they are in heat - is picked up by infra-red communication when the cow enters the milking stand and is then relayed to a central computer. The company has one of the most sophisticated high tech dairy cow monitoring systems on the market, claiming a 20 percent increase in milk yield.
Another new sensor that measures rumination time, the time it takes for the cow to chew and digest its cud, was introduced at Agritech. Lack of fiber in the cow's diet can result in a reduced rumination rate - signs of loss of appetite, sickness - and result in decreased milk production. Developed at a cost of $1 million by Vocal Tag , this important indicator expected within the year, provides vital information for the dairy on feeding quality and quantity, and cow health. SCR is beginning to develop a new generation of products for sheep and goat herds.
Plants also benefit by close observations. Russian scientist Yuri Ton developed sensors that could pick up signs of stress in plants - clear signs that they need water -before they were visible, and send out an electronic warning. Ton was recently named by Cambridge as one of the top 2000 scientists of the last century. Using different sized sensors for measuring growth and sap flow, moisture in a leaf, stem, and fruit (little ones for cherry tomatoes and grapes) the PhyTalk system has been developed and marketed by PhyTech in Yad Mordechai.
"The PhyTech system is the first system developed to monitor the physiological conditions of plants," said Dr. Oded Sagee, VP of Business Development (formerly Chief of Citrus at Volcani, Israel's Agricultural Research Center.) The data is transmitted to a concentrator unit and then via wireless to a PC for easy access.
---
Reprinted from the Israel High-Tech & Investment Report November 2003
Click HERE to request further information.
Click HERE to go BACK.